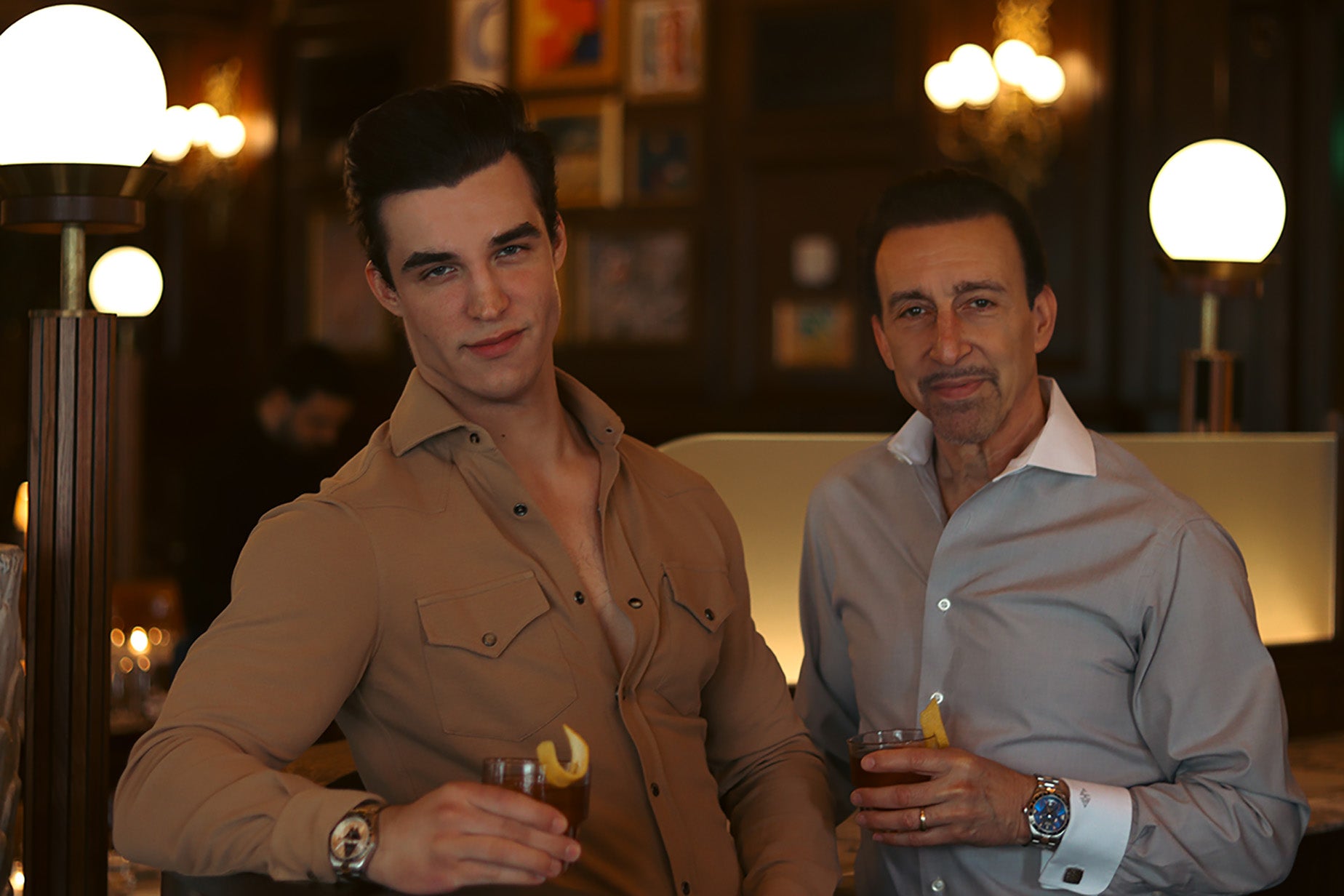 What Makes a KNOPF a KNOPF?
"It's not the fine materials that are used to build it. It's not the machinery or engineering under the hood. It's not even the Swiss Made assurance displayed on the dial. It's the pure artistic innovation that makes a KNOPF a KNOPF. It's what makes our timepiece on your wrist stand out from the crowd. There's nothing else like it, because being ordinary will never be our thing."
- Larry Knopf, Co-Founder
An Intimate Chat With The Knopfs
BEHIND THE DIAL
1. **Rooted in Legacy**: "Larry, starting with the rich legacy of Solomon Knopf, how has the family history influenced the ethos and mission of KNOPF Watches?"

Larry: The thought of a young man having the courage to leave everything behind and come to America with no support, no money, no social programs, no safety net is absolutely terrifying. Then, to become a wealthy businessman? Well, that is incredibly inspiring to our family. Gage and I want to take that spirit and turn KNOPF into a family business that will last for generations.

2. **The Fusion of Past and Present**: "Gage, KNOPF blends elements from old-world architecture with contemporary watchmaking. How do you ensure a seamless melding of these two distinct worlds in your designs?"

Starting with blank canvas, my focus is to draw inspiration as opposed to simply copying a specific design. I take elements from the inspired structure, and blend them with my vision of how they would appear in a more modern aesthetic.

3. **Father-Son Dynamics**: "For both of you, how does the dynamic of working as a father-son team influence the brand's direction and decision-making?"

Larry: I think we each bring a unique perspective and skillset to the business. With 40 years of sales and entrepreneurship, I bring strong operations, systems and customer relations experience.

Gage: Dad is definitely the business guy who I'm learning from all the time. But, from my perspective, I bring creativity, artistry, and visual skills that have driven branding and product design for KNOPF. As a father and son team, our biggest advantage is that we are able to have complete trust in each other.

4. **Art Deco Influence**: "Larry, can you delve deeper into the significance of the 20th-century Art Deco influence in your designs? Why was this particular style chosen as the brand's signature?"

Larry: I've been walking the streets of New York City for 3 decades and have always been drawn to old-world architecture. I marvel at the architects who created these brilliant structures. It was my wife, a native New Yorker, who educated me about this Art Deco genre and how it has impacted nearly every artistic medium, from skyscrapers to fashion. After nearly 100 years, it's still impacting the world.

5. **The Challenge of Standing Out**: "Gage, with a market saturated by watch brands, what do you believe truly sets KNOPF apart from its competitors?"

Gage: As someone who doesn't come from the watch world, I have no preconditions of what a watch is supposed to look like. So, I think I offer a fresh, unbiased perspective when designing. It's why our customers frequently comment that they have never seen a watch like KNOPF. I love it when I hear that!

6. **The Artistic Touch**: "Larry, how has Gage's background in visual arts reshaped or refined the brand's identity since its inception?"

Larry: I think creativity is the most important pillar of any successful watch brand. It's this creativity that catches the eye and captures the imagination. Believe it or not, Gage's gift for art was evident at the age of 3 when his drawings continuously amazed his mother and me. It's his visual talent that has defined the KNOPF brand, from our overall brand image to our product designs. This has been absolutely priceless.

7. **Craftsmanship and Partnerships**: "Gage, can you shed some light on the importance of your global partnerships? How do they enhance the quality and credibility of KNOPF timepieces?"

Gage: Our global partners are really important when it comes to building a quality product and brand that people can trust. For example, we could have produced our alligator straps in China at a fraction of the cost. Instead we found a world class manufacturer in Florida. We toured their plant, met some workers and hand picked our leather to ensure coloration. When picking out the logo style for the inside of the strap, we saw Cartier and Breitling in their book of clients! Now that's an impressive partner.

8. **Vision for the Future**: "Larry, where do you see KNOPF in the next decade? Are there any plans to diversify the product range or enter new markets?"

Larry: In 10 years, we see ourselves with many collections, each with a great story behind it. We also see KNOPF entering the women's market, as well as additional accessories, such as wallets, belts, cufflinks, etc.
On an unrelated note, we even see ourselves (as whiskey lovers) breaking into the bourbon scene.

9. **Inspiration Behind Designs**: "For both of you, when conceptualizing a new watch design, where do you draw your inspiration from? Are there any personal experiences or stories that have directly influenced a particular design?"

Gage: As you probably know, I draw inspiration from New York City architecture. Our first collection, the KNOPF NY-405, is inspired by the Chrysler Building, which happens to be my mother's favorite. Each watch I design will have personal meaning to our family, whether it's a building that we've visited frequently or one that has simply inspired us for years because of its artistic flare.

10. **Legacy and Lessons**: "Gage, growing up hearing about your family's rich legacy, what's the most valuable lesson you've taken from the stories of past generations, and how does it apply to your role at KNOPF today?"

For me, the Knopf legacy includes 3 generations of entrepreneurs, from my great grandfather to my grandfather to my dad. Each of them is successful in their own right. Though the stories of incredible courage and determination from my great grandfather, Solomon, I find most inspiring. The greatest lesson I took away from it all is that business is filled with never ending challenges and that you have to meet them head on with a never-quit attitude.