FREE WORLDWIDE SHIPPING | 30-DAY RISK-FREE RETURNS | 3-YEAR WARRANTY
ARCHITECTURALLY INSPIRED X SWISS MADE
KNOPF is more than just a brand. It's the product of an entrepreneurial family legacy that began over a century ago. In the 1890s, Polish immigrant, Solomon Knopf, set sail for America, dreaming of grand opportunities and a better life. He landed on the shores of the New World, young sister in tow, with big dreams and a steely determination to succeed at any cost.
A NEW ARTISTIC CLASS OF WATCHES
KNOPF was founded in Manhattan by father and son team, Larry Knopf and Gage Knopf.

With the all-too-similar classic styles infused into most of today's watch brands, they saw an opportunity to create something fresh and new; timepieces that would stand out from the sea of stock standard, classic designs.
AFTER I COMPLETED GREAT MY ...
"After I completed my order I received a call right away from Knopf. The watch really looks great . Shipping was fast . The watch and the case really looks elegant."
RICO D
Jun 10, 2023 - California, USA
Communication and customer service are…
Communication and customer service are top notch. Shipping was very fast, all this on top of this beautiful timepiece being everything I hoped for. Thanks guys keep up the good work
RonR
Jun 25, 2023 - Florida, USA
AWESOME!!!
"What make the watch great is the way it looks the way it feels. It's a classy look a classy feel. I am very happy with the purchase. Maybe down the road. I'll purchase another one."
Gerardo Nevarez
Jun 13, 2023 - Arizona, USA
5 CENTURIES OF TRADITION
SWISS WATCHMAKING
In the small town of Chiasso, at the southern tip of Switzerland, experienced artisans craft KNOPF timepieces to equip those watch lovers who have a discerning eye for quality and a taste for the avant-garde.


DESIGNED IN NEW YORK
KNOPF watches are designed in-house and draw inspiration from Manhattan's iconic Art Deco skyscrapers; combining timeless, old-world architecture with contemporary design.
DARE TO BE DIFFERENT
Inspired by the renowned Chrysler Building on Lexington Avenue, the KNOPF NY-405 is more than just a watch. It's a conversation piece with a truly unique story. There's nothing else like it.

BUILT TO LAST FOR GENERATIONS
Featuring a superlative Swiss automatic movement, our watches are crafted from the finest materials. High performing and durable, they're made to last for generations.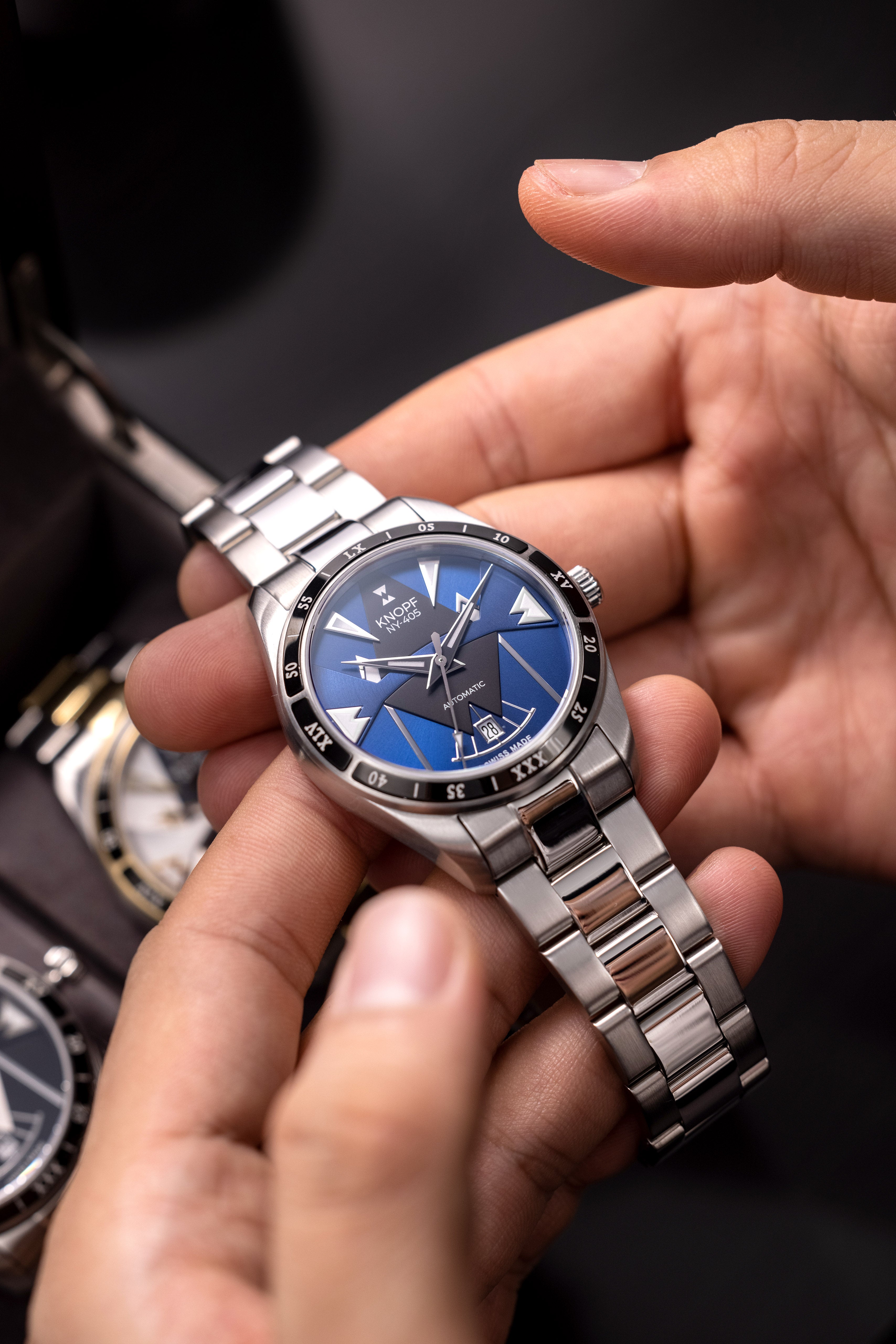 ABOUT US
COMBINING PASSIONS
Today, KNOPF continues the great family tradition of entrepreneurship.

It combines the founders' decades-long love of mechanical watches and the renowned heritage of Swiss watchmaking with the iconic, old-world architecture of New York City.

From Swiss craftsmanship dating back to the 16th century - to the groundbreaking Art Deco skyscrapers of the early 1900s, these inspirations are the foundation of KNOPF - rooted in history yet completely modern.


30-DAY FREE RETURNS
AND EXCHANGES

1-YEAR REPLACEMENT
GUARANTEE